Click here to download recreational fishing daily bag limits
Click here to download shellfish and bait daily bag limits
Click here to download prohibited species list
Rock and Surf Fishing along the Sunshine coastline offers excellent fishing opportunities. The most popular fishing spots are:
3 Sisters – walk west from Kleinemonde to the deep troughs at 3 Sisters
Great Fish River – fish from the rocky outcrops east of the Great Fish River
Koiwe River Mouth – Fish off the west pier in Port Alfred
Sharks Bay – situated between West Beach and Kellys beach – the deep troughs offer excellent fishing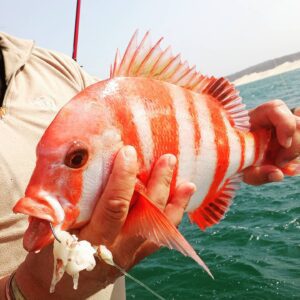 Deep Sea Fishing with BlackFish Charters: We run a purpose–built, fully SAMSA registered 32ft Butt Cat out of Port Alfred. Our target market being top-end fishing charters, catering to both local and international clientele. We have on average around 450 clients using our services per season. We pride ourselves on a good, professional service, on and off the water. Our on-board Crew are both knowledgeable and skilled fishermen who guide our clients in all aspects while on board. We are also involved with, and support a broad range of scientific research work for local and international institutions as well as servicing the local chokka industry in season. We have built a solid reputation over the years as a no-nonsense, solid fishing outfit, willing to go the extra mile for our clients as well as being the guys to chat to with regards to equipment and general advice regarding all things boat/fishing related. We belong to ORI and actively practise tag and release, while also helping educate our clientele over a broad spectrum of conservation in our seas. Our junior on–board clinic has been a great success. Selected junior anglers are given a regular opportunity to experience and learn basic boat and fishing skills as well as the importance of "clean seas" and the preservation of our unique sea life. We see this as an investment in the future of our sport. We have worked hard on our branding and have over the last 18months cemented the name of our new vessel in the area as well as having a large following on numerous social media platforms.
Click here for more information on BlackFish Fishing Charters
River Fishing is popular along the banks of the Kowie River, popular spots being along the grassy verges behind the Tourism Office.